Evergo Charges Up with GB-Energy Texaco
CEO, Evergo, Wayne McKenzie, OD and CEO, GB-Energy, Bela Szabo unveils the Level 2 charging stations at Texaco, Ironshore in Montego Bay.
Evergo Jamaica officially welcomed GB-Energy Texaco to the electric vehicle (EV) movement. On Friday, February 11, 2022, Evergo launched its charging station at Texaco, Ironshore in Montego Bay.
Thanks to this partnership with GB-Energy Texaco, this is the first of several charging stations to be installed and unveiled across the island. "We know and understand that the changes will not happen overnight but with our framework and the building of formidable partnerships, we will achieve our ultimate mission, which is to create a network that allows you to charge your electric vehicle, anytime, anywhere, sustainably," said General Manager, Evergo, Kevin Francis.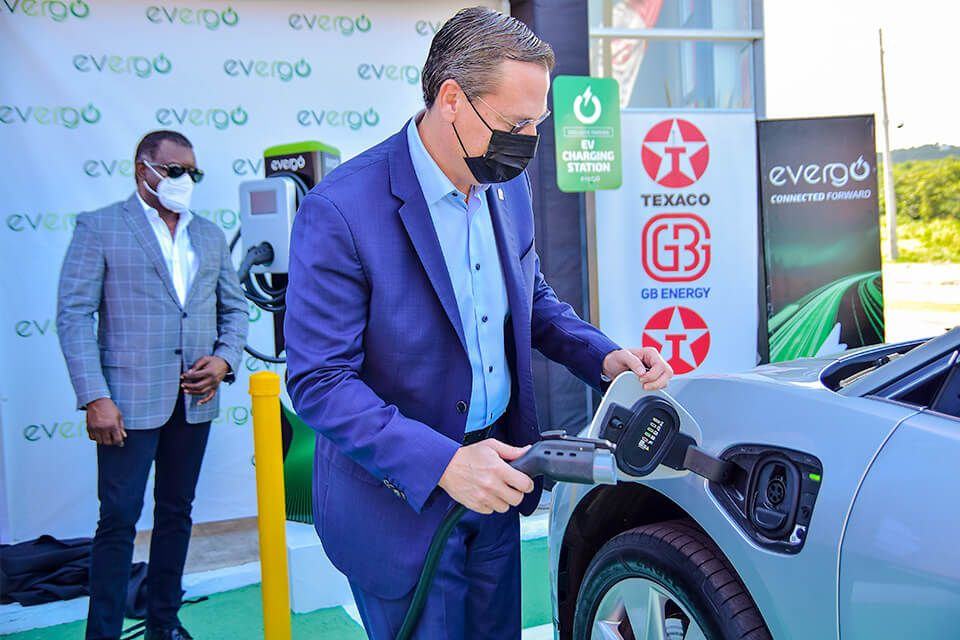 CEO of GB-Energy Bela Szabo connects the Evergo level 2 charger cable,
type 1/J1722 to the Jaguar I-Pace charging port.
The Evergo charging station demonstration was a highlight of Friday's unveiling. Charging your electric vehicle is quite simple: pay using the Evergo app, plug in, and go!
EVs, such as the Jaguar I-Pace, and hybrids, such as the Mini Countryman S E, Mercedes GLC 300e, and BMW X5 45e, were also on display during the presentation. Despite being relatively untapped in Jamaica, the electric vehicle market in the Caribbean is poised for tremendous growth in the coming decade.
"Our partnership with Evergo Jamaica will grow organically overtime given the convenience of our locations in Evergo's commitment to expanding its electric vehicle presence across Jamaica and the whole Caribbean," said CEO, GB-Energy, Mr Bela Szabo.
Over the next three years, Evergo hopes to add 300 charging stations over the island.
About Evergo
Evergo is the largest, most sophisticated platform for electric vehicle charging stations in Jamaica, the Caribbean, and Latin America. Our charging units are the most advanced of their kind so that in a short time, you can charge the battery and be on your way. With an electric vehicle, you can travel long distances without worry because we will have a charging station near you and on the main roads of the 14 parishes across Jamaica.
The Evergo app is available in the Apple and Google Play stores, enabling persons to consult the nearest charging station, plan their route, reserve, and pay through a virtual wallet before charging.

For further information, please contact:
Lauren Blake
Public Relations Officer
EV Power Jamaica Limited
Tel: 876-570-8733
Email: [email protected]