Evergo launches charging station at first resort – Jamaica Inn
From left to right: Chairman and owner, Jamaica Inn, Eric Morrow; Marketing Manager, Evergo, Melissa Newman; CEO, Evergo, Wayne McKenzie, OD and Managing Director, Jamaica Inn, Kyle Mais unveil two Level 2 chargers at the Jamaica Inn.
As the first resort to commission an EV charging station on the island, EVPower Jamaica Limited (Evergo) has welcomed Jamaica Inn to the electric vehicle movement. On Thursday, February 24, 2022, Evergo unveilled two Level 2 charging units at the luxury hotel.
Electric vehicles are more environmentally friendly since they help to reduce hazardous air pollution caused by exhaust emissions. This translates to improved air quality and fewer health issues caused by pollutants. As a result, by procuring an Evergo charging station, Jamaica Inn continues to play its part in moving toward a more environmentally conscious future.
The Jamaica Inn is no stranger to giving back to the environment. The Jamaica Inn Foundation has contributed to the preservation of the maritime environment by supporting and facilitating the White River Fish Sanctuary since 2016. Notably, the Foundation also aids the Oracabessa Bay Turtle Project. At the Inn's private beach, guests can witness turtle hatchlings. Over the years, the Inn has maintained its commitment to providing a cleaner tourism product.
"We here at the Inn are also very proud to continue to be environment and sustainability training centres in being the first resort hotel in Jamaica to offer our guests this service," said Managing Director, Mr Kyle Mais.
Yesterday's launch exhibited full EVs and plug-in hybrids to showcase the variety of e-mobility cars available in Jamaica. EVs like the Jaguar I-Pace, BYD Tang, E6 and T3 models, as well as the more economical Nissan Leaf and hybrids such as the Porsche Cayenne, Mini Countryman S E, Mercedes GLC 300e, and BMW X5 45e were on full display.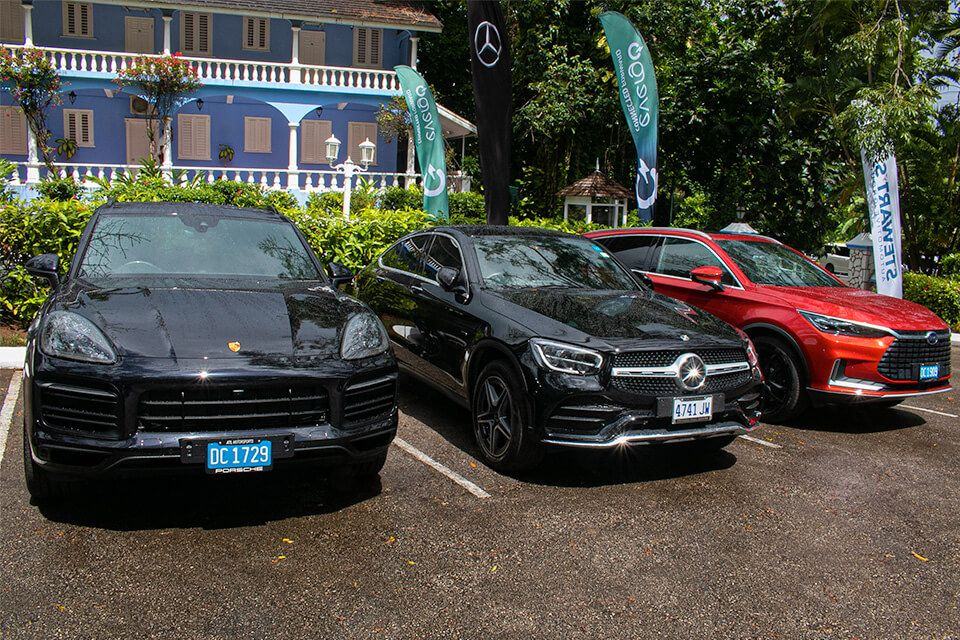 From left to right: Porsche Cayenne and Mercedes GLC 300e, which are both hybrids, and BYD Tang, a full EV, were on display at yesterday's launch.
"We have 62 chargers that are going to be on the ground and functional before the end of the first quarter of this year," said CEO of Evergo, Wayne McKenzie, OD. "We believe that once they [electric charging stations] are here, people will buy the vehicles," he added.
There are currently 21 active chargers, with another 27 under construction and 12 awaiting connection. Evergo has set aside 300 units to be installed throughout the island over the next three years, with plans to expand into additional resorts and apartment complexes, enabling users to travel anytime, anywhere, sustainably without fear of running out of charge.
For those eager to make the switch, the National Commercial Bank offers an auto green loan. "Special rates, discount on fees and longer loan terms to make it so much more affordable to acquire your EV," said Ocho Rios Branch Manager, Mr Donnovan Reid.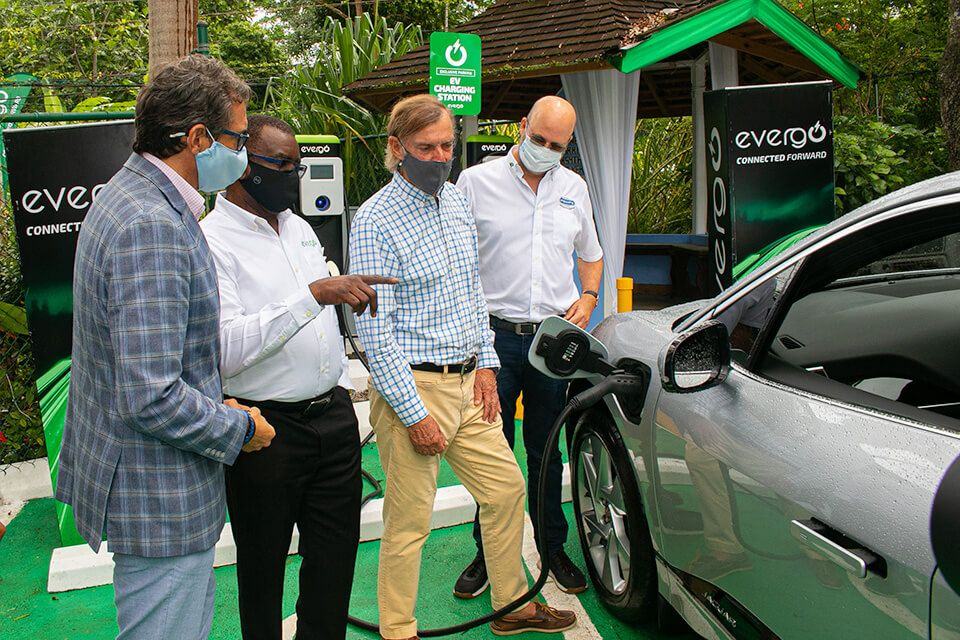 Evergo CEO, Wayne McKenzie (second from left) demonstrates the ease of charging the Jaguar I-Pace to Managing Director, Jamaica Inn, Kyle Mais; Chairman and owner, Eric Morrow and General Manager, Stewart's Automotive Group, Duncan Stewart.
Before charging, users can consult the nearest charging station, plan their route, reserve, and pay using a virtual wallet using the Evergo app, which is available in the Apple and Google Play stores.
To stay up to date, follow @evergo_jamaica on Instagram and Facebook, and visit evergo.com.
About Evergo
Evergo is the largest, most sophisticated platform for electric vehicle charging stations in Jamaica, the Caribbean, and Latin America. Our charging units are the most advanced of their kind so that in a short time, you can charge the battery and be on your way. With an electric vehicle, you can travel long distances without worry because we will have a charging station near you and on the main roads of the 14 parishes across Jamaica.
The Evergo app is available in the Apple and Google Play stores, enabling persons to consult the nearest charging station, plan their route, reserve, and pay through a virtual wallet before charging.

For further information, please contact:
Lauren Blake
Public Relations Officer
EV Power Jamaica Limited
Tel: 876-570-8733
Email: [email protected]