Uber and Evergo join forces to accelerate electric mobility in the Dominican Republic
With this partnership, Uber's driving partners in Santo Domingo will be the first to join a more sustainable mobility through electric vehicles provided by Evergo.
These joint efforts are part of Evergo's commitment to promote a more sustainable mobility, through the largest and most sophisticated network of charging stations in the region.
Santo Domingo. January 13th, 2022 – Evergo and Uber announced a pioneering partnership to accelerate the transition of Uber's drivers towards electric mobility and reduce their environmental impact.
Evergo will supply 20 electric vehicles from its corporate fleet to Uber Driver Partners, as part of a plan focused on expanding this number in the short term. These drivers will have the opportunity to test these cars for a period of 30 days, at no cost; and, for those interested, Evergo will offer facilities for them to acquire the vehicles with special conditions. Drivers selected for the pilot program are being contacted by Uber and Evergo staff.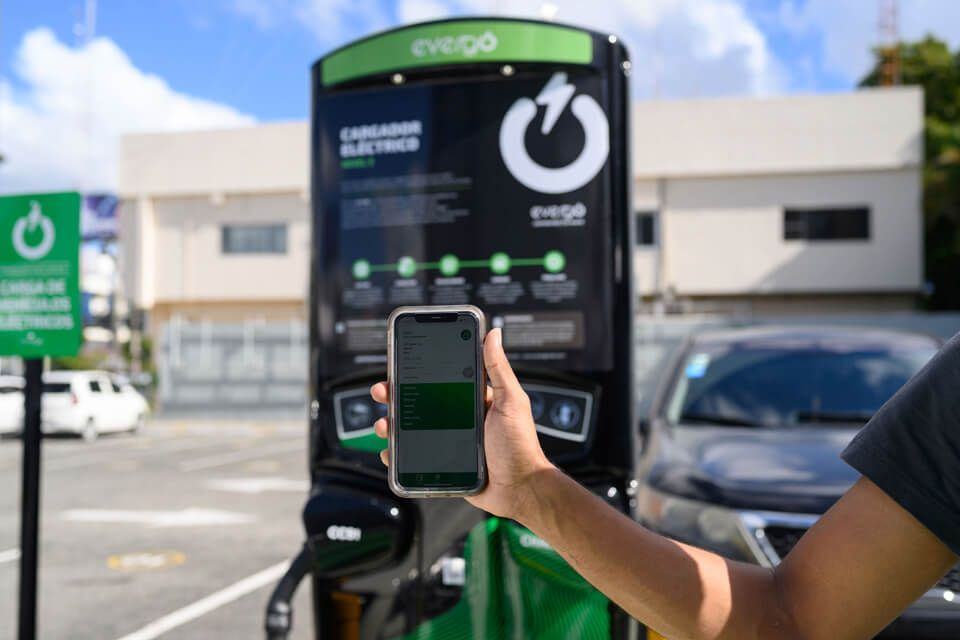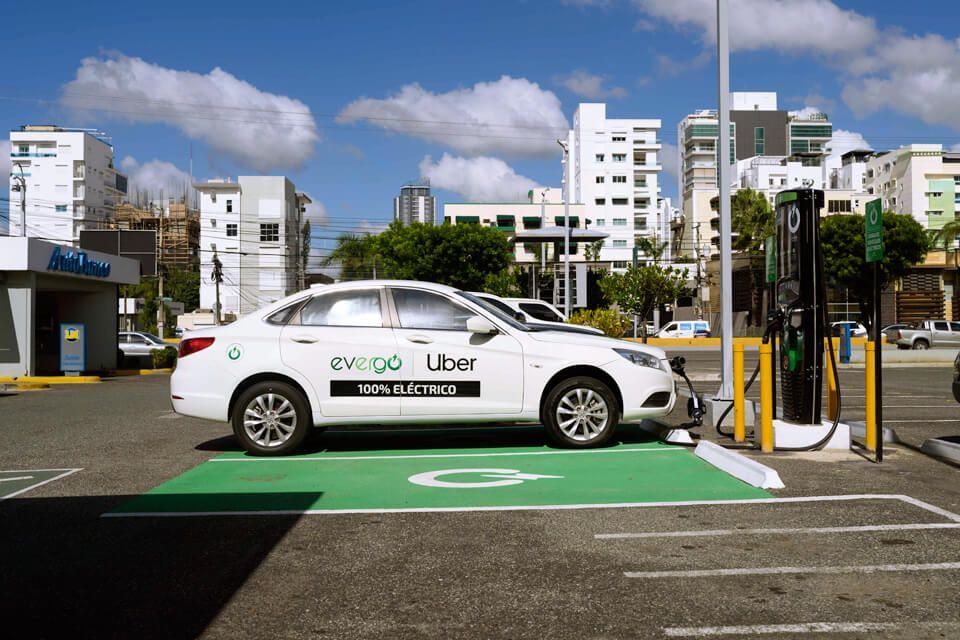 Anterior
Siguiente
This effort opens a window for drivers to acquire a vehicle with state-of-the-art technology at an affordable cost, in addition to making the most of their profits, since electric vehicles can represent a 60% reduction in fuel, and up to 83 % in maintenance, according to Evergo executives.
Roberto Herrera, Country Manager of InterEnergy Group in the DR, Evergo's parent company, stated: "Our commitment is to ease the transition towards a more sustainable mobility, offering the current and potential users of electric vehicles the trust they need to reach their destination, whatever it may be, thanks to a network that includes more than 350 charging stations distributed in the 32 national provinces and 500 regionally, with the aim of tripling this figure by the end of 2022".
With partnerships like this, Herrera highlighted the joint commitment for a 'cleaner Dominican Republic'. "Hand in hand with a leading transport company like Uber, we join forces to take electric mobility to a new level of development, and thanks to cutting-edge technology that places ahead of other countries of the region", he stated.
On his end, Evergo's General Manager, Oscar San Martín, said: "We aspire to expand this relationship around all countries in Latin America and motivate the inclusion of new Uber driver partners in a more sustainable transport model".
"At Evergo, we are leading the transition towards cleaner mobility throughout the region, paving the way to encourage the use of electric vehicles by creating the most advanced network of charging stations on the market and a unique ecosystem that already has more than 5,000 users", he added.
This initiative is also part of Uber's global commitment to promote more eco-friendly mobility through its Uber Planet product, a new mobility alternative present in 67 Latin American cities, and already available in the Dominican Republic, which allows users to offset their carbon footprint (CO2) when requesting trips through the App.
As Víctor Jaén, General Manager of Uber in the Caribbean and Panama, explained, "Uber is committed to sustainable development and is proactive in promoting green mobility. For this reason, we are proud to announce a new alliance with Evergo, a company that contributes to our global mission of zero emissions by 2040".
About Evergo
Evergo is the most advanced and sophisticated charging platform for electric vehicles in the country. It currently has more than 300 distributed in the 32 provinces of the Dominican Republic and more than 5,000 users. Its mission is to create a network that allows us to reach any point of the country, in a sustainable and reliable way, moving us towards a more responsible future with the environment. The operation of these charging stations is under a self-service model, through an application, available in the App Store and Google Play, through which the user can consult the nearest charging station, plan their route, reserve, pay to through a virtual wallet and start charging. An ecosystem that maximizes the user experience, with the purpose of facilitating and promoting a more sustainable mobility.
It is a brand of InterEnergy Systems Dominicana, a pioneer in the implementation of electric vehicle charging infrastructure in the Dominican Republic, as well as high-efficiency thermal power stations, smart electrical grids for smart cities, development of software and technological solutions, and its target market is Latin America and the Caribbean.
About Uber Dominican Republic:
Uber's mission is to create opportunity through movement. We started in 2010 to solve a simple problem: how do you get access to a trip at the touch of a button? More than 15 billion trips later, we are building products to get people closer to where they want to be. By changing the way people, food and things move in cities, Uber is an app that opens the world to new possibilities. Uber is available in more than 10,000 cities in 76 countries on six continents.
Uber arrived in the Dominican Republic in November 2015. Currently, the App is available in Santo Domingo, Santiago de los Caballeros, Puerto Plata, Punta Cana, Higüey, San Pedro de Macorís and La Romana. It has more than 28,000 driving partners and 500,000 users. They also have the services of UberX, Uber Moto, Uber Comfort, UberX Flash and Uber Moto Flash. For more information you can go to https://www.uber.com